Sodium Metabisulphite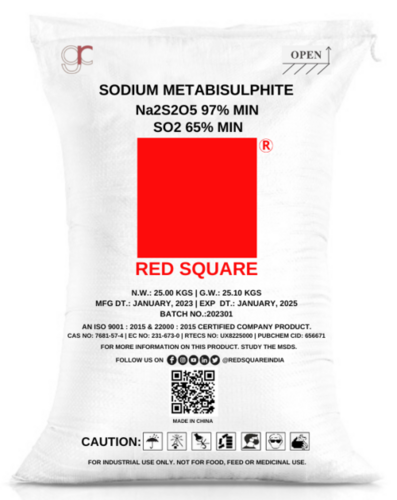 Sodium Metabisulphite
Price And Quantity
Bag/Bags

30.00 - 40.00 INR
Product Specifications
150 C (Very soluble in glycerol. Slightly soluble in ethanol)

Sodium Metabisulphite can be used as a, preservative, reducing agent, antioxidant, disinfectant, color fixative, leavening agent and bleaching agent in alcoholic beverages such as wine, cocktail mixes, wine coolers, etc., pastries including cookies, quiche crust, pizza crust, crackers, mixes with dried fruits and juices, etc.
Powder

Inorganic Chemical
1.48 Gram per cubic centimeter(g/cm3)

Water, Glycerol & Ethanol
Sodium Metabisulfite, Sodium Pyrosulfite

NO
Sodium Metabisulphite appears as a white crystalline or powder solid with a slight sulfur odor. Toxic by inhalation . Strongly irritates skin and tissue. Non combustible, but may decompose to emit toxic oxide fumes of sulfur and sodium when heated to high temperature. A corrosive acid when mixed with water. Used as a food preservative and as a laboratory reagent.

7681-57-4
Industrial

190.11 Grams (g)
Inorganic Chemicals

Sodium Metabisulphite
231-673-0

Technical Grade
Product Description
Sodium Metabisulphite
Sodium Metabisulphite has reinforced the performance of a wide range of industrial-grade application through its extensive utility in food & beverages, water treatment, chemical & pharma, textile industry, pulp & paper etc. Sodium Metabisulphite has pandemic utility when used as industrial grade.

Due to changing lifestyles, major changes in food consumption patterns and eating habits are being noticed across the globe. There has been a significant rise in per capita consumption of packaged food and beverages, which is likely to have a major impact on the demand for sodium metabisulphite. Sodium Metabisulphite is used as a preservative in dried foods. Sodium Metabisulphite is also used as a softener in the dough for making bakery products. Sodium Metabisulphite is a subcategory of sulphur derivatives and is gaining popularity owing to the stringent regulations prohibiting the use of sulphur dioxide to reduce harmful emissions. Various grades, such as food-grade and industrial grade, of sodium metabisulphite, are being manufactured to be used across major end-use industries, such as paper and pulp, textile, water treatment and mining, amongst others.

Based on grade, the sodium metabisulphite market has been segmented into food grade, industrial/technical grade, and photo grade. Based on volume, the industrial-grade segment held the maximum share of over 90% last year due to their versatile usage in pulp & paper industry as an antichlor and for de-lignification purpose, in the textile industry as a bleaching agent for wool and jute, in the pharma industry for manufacturing of antioxidant drugs. Strong demand from Asian countries is subjected to the growing textile industry in their region which will propel the demand for fabrics like silk, viscose, hemp and other products. The product also has extended application in the mining industry as a floating agent and cyanide detoxification. It is also used as an oxygen scavenging agent in steam boilers & drilling water.
Trade Information
Free samples available with shipping and taxes paid by the buyer

Available in 25 Kgs HDPE Bags with PP liner or lamination inside. 1*20' contains 27 MT (1080 Bags) w/o Pallet.
Chandigarh, Nagaland, West Bengal, Madhya Pradesh, Assam, Bihar, Manipur, Sikkim, Telangana, Mizoram, Meghalaya, Punjab, Arunachal Pradesh, Andhra Pradesh, Tripura, Haryana, Delhi, Odisha, Jharkhand, Chhattisgarh, Uttar Pradesh

An ISO 9001:2015 & ISO 22000:2005 Certified Company Product