Ammonium Chloride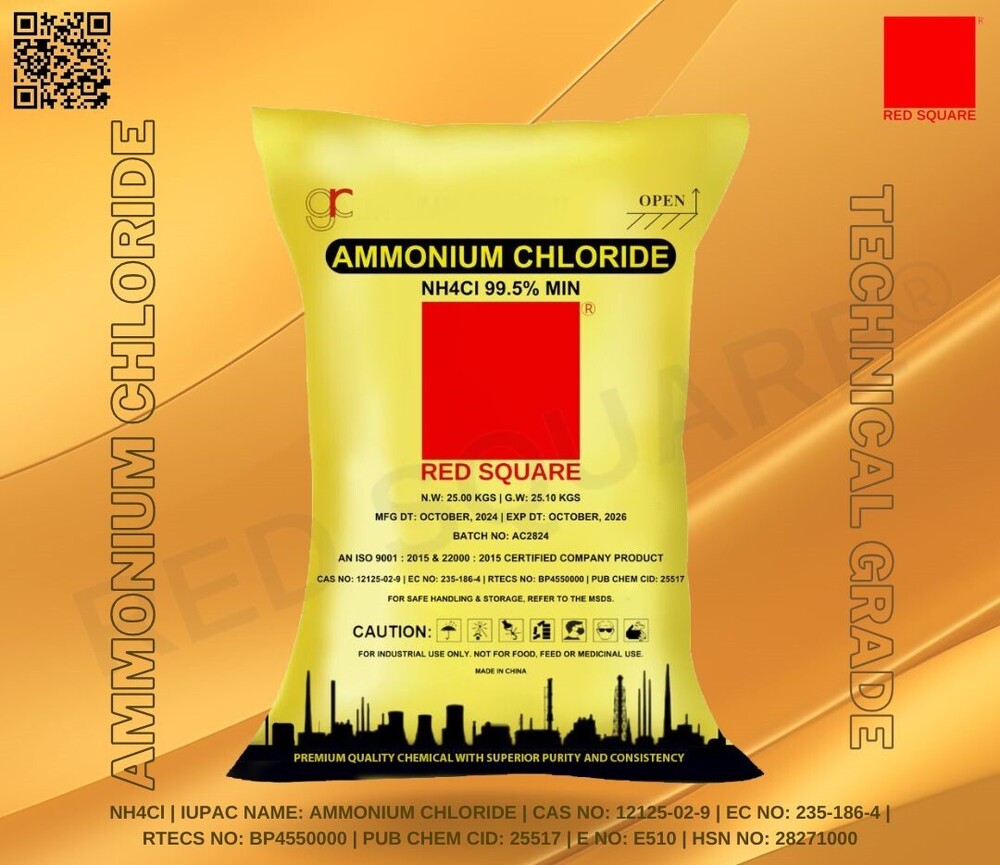 Ammonium Chloride
Price And Quantity
Kilograms/Kilograms

30.00 - 40.00 INR
Product Specifications
12125-02-9

1.53 Gram per cubic centimeter(g/cm3)
Sal Ammoniac, Salmiac, Nushadir Salt, Sal Armagnac, Salt Armoniack, Salmiak

White
NO

Food, Feed & Industrial
Ammonia, Water, Alcohol, Methanol, Glycerol, Hydrazine

Powder
5.5

Ammonium chloride is a white crystalline salt that is highly soluble in water. Solutions of ammonium chloride are mildly acidic. Sal ammoniac is a name of the natural, mineralogical form of ammonium chloride.
Ammonium Chloride

28271000
338 C

The dominant application of ammonium chloride is as a nitrogen source in fertilizers. Ammonium Chloride is used as a flux in preparing metals to be tin coated, galvanized or soldered. It is also used as an expectorant in cough medicine. Ammonium chloride, under the name sal ammoniac or salmiak is used as food additive under the E number E510, working as a yeast nutrient in breadmaking and as an acidifier. Ammonium chloride is used in the textile and leather industry, in dyeing, tanning, textile printing and cotton clustering. Zinc Carbon batteries using ammonium chloride as electrolyte.
Inorganic Chemicals

Hydrogen Chloride
235-186-4

Technical Grade
Product Description
Ammonium Chloride used in a wide range of applications including Pharmaceuticals, Food, Feed, Fertilizer & Industrial Applications. Different grades are correctly marked on Packaging & Documents.


Pharma Grade - Ammonium Chloride is a systemic and urinary acidifying salt. It helps maintain pH and exerts amild diuretic effect. This acid forming salt also exerts an expectorant effect by irritating the mucous membranes and is used for alleviation of cough.


Food Grade' - From liquorice and salmiac pastilles to chewing gum, ammonium chloride serves as excellent flavour-agent. As a matter of course, only purest ingredients might be used for delicious sweets. Also as food additive underthe E number E510,working as a yeast nutrient in breadmaking and as an acidifier. It is also used to improve the crispness of snacks such as samosas and jalebi & in baking to give cookies a very crisp texture.

Feed Grade' - Ammonium Chloride Feed Grade serves as feed additive for various feed stocks such as cows, lambs and pets like cat and dogs. It has a positive effect on the prevention of urinary calculi and therefore improvesthe welfare and performance of these animals significantly. It also provide protein to livestock.


Fertilizer Grade - Ammonium Chloride contains 25% Nitrogen. The entire nitrogen is present in ammoniacal form. Besides nitrogen, chlorine present in ammonium chloride is also an important micro nutrient. It improves root formation and ensures quality product output. When ammonium chloride is applied as basal or top dressing for cultivated crops,loss of nitrogen is very less. Consequently more nitrogen will be utilised bythe crop, thereby fertilizer use efficiency is increased. Ammonium Chloride fertilizer application is recommended for saline and alkaline soils. It is also a suitable nitrogenous fertilizer for application in low lying areas where paddy and other crops are cultivated by farmers. It is less hygroscopic than other fertilizer which means the fertilizer has a fairy long life in storage.The chloride radical in ammonium chloride frees Phosphorous, Potash, Magnesium,Silica, Iron, etc. from the soil.


Industry Grade - Ammonium Chloride is used in dry cell battery, flux, galvanizing, soldering, zinc refining, textile dyeing & printing, to luster cotton, leather tanning and many more industries. A principal use of ammonium chloride has been as a fluxing agent for hot dip galvanizing of steel and in the refining of zinc.It provides fluxing action by reacting with molten zinc to form a stable melt containing zinc chloride and ammonium chloride.
Trade Information
Free samples available with shipping and taxes paid by the buyer

Available in 25 Kgs HDPE Bags with PP liner or lamination inside. 1*20' contains 25 MT (1000 Bags) w/o Pallet.
Manipur, Meghalaya, Tripura, Nagaland, Odisha, Andhra Pradesh, Uttar Pradesh, Punjab, Haryana, Arunachal Pradesh, Delhi, Assam, Jharkhand, West Bengal, Telangana, Mizoram, Bihar, Sikkim, Chhattisgarh

An ISO 9001:2015 & 14001:2004 Certified company Product